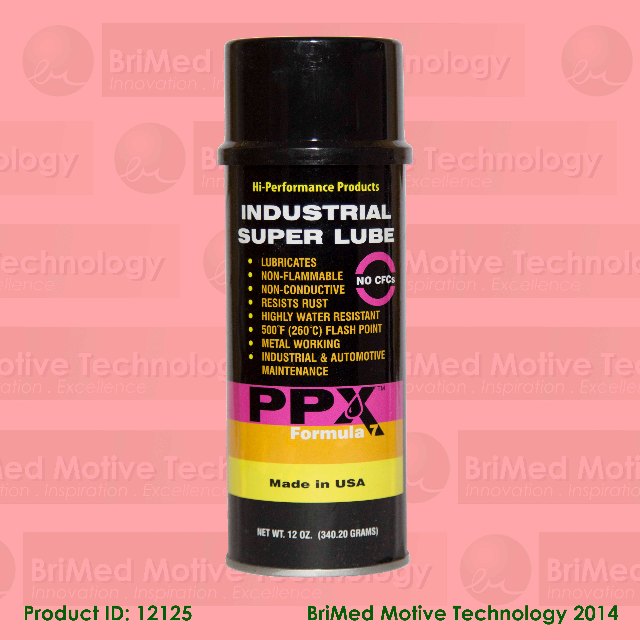 PPX 多用途工業用超級潤滑噴劑 Industrial Super Lube (Aerosol) - Multi-purpose Super Lubricant
Model: 12125
所有國家及地區
貨品描述
INDUSTRIAL SUPER LUBE (Aerosol)
Multi-purpose super lubricant
PPX Formula 7 Industrial Super Lube (ISL) is made from a unique formulation of the highest quality petroleum base stocks available fortified with PPX Formula 7 state of the art technology to enhance oxidation resistance and provide maximum protection against wear, rust, and corrosion.
PPX ISL is a multi-purpose super lubricant designed for general maintenance use, from home use to heavy industrial plant projects.
It's a non-flammable, non-conductive, super lubricating film that coats and penetrates metal surfaces to provide the longest-lasting lubricating action available (up to ten times the life of other products). This product contains no CFC's which deplete the ozone layer. ISL is the "new standard" in protection.
PPX ISL can be used as a metalworking lube, way oil, or on any vehicle, marine, sports gear or guns, chains, cables, railroad equipment, farm machinery, or earth-moving and off-road equipment.
多用途工業用超級潤滑噴劑
1. 非導電、不易燃及超效防水性
2. 抗銹及快速滲透除銹
3. 耐高溫(260°C)閃點
4. 強效降低金屬間之磨損,全效保護
5. 強效降低機械運動阻力,提升效能
6. 使機械運作更暢順,更寧靜
7. 減少機件損耗及停機維修
8. 金屬加工、軸承、齒輪及鎗械等
9. 符合OSHA,EEC,IARC,EINECS, MITI,WHMIS 等國際標準
APPLICATIONS
1. All types of vehicles:
Cars, Trucks, Recreational, Commercial Fleets, Earth-Moving, Off-Road.
2. Marine Equipment
3. Electrical Equipment
4. Railroad Equipment
5. Industrial:
Mining, Aircraft, Manufacturing, Assembly, Metalworking.
6. Military Applications
7. Agricultural Equipment
8. Race Cars
9. Gears, Chains, Cables, and Bearings
10. Escalators, & Passenger Conveyors
FEATURES
1. Superior petroleum base stocks and superior additive technology.
2. Compatible with all seal materials, plastics, and paints.
3. Superior antiwear properties.
4. Excellent protection against rust and corrosion.
5. Outstanding oxidation resistance and thermal stability.
6. High flash point and high viscosity index.
7. Long life residue.
8. Non-conductive.
9. Contains No CFC's.
BENEFITS
1. 1. Reduced maintenance costs.
a. Less inventory-will replace all other aerosol and liquid type lubricant products.
b. Less used oil to dispose.
c. Reduced component wear.
d. Decreased "down time" to replace oil and parts.
e. housands of uses.
2. Super Lubricant.
3. Reduced hazard of fire or explosion.
4. Non-Conductive.
5. Long lasting film lubricant.
6. Energy savings.
7. Increased tool life and better finished cut (Metalworking).
SPECIFICATIONS
| | |
| --- | --- |
| l Part No.: | 12125 |
| l Specific Gravity at 60 (°F) | 0.9574 |
| l Flash Point, COC (°F) | >475 |
| l Flame Projection, ASTM D-5306 | None |
| l Propellant CFC's | None |
| l Pour Point (°C) | -9 |
| l Four Ball E.P. LWI | 80 |
| l Four Ball Weld (Kg) | 400 |
| l Four Ball Wear Test, mm. 1200 RPM, 167°F., 40 kg | 0.62 |
| l Falex Load | >2000 |
| l Dielectric Breakdown, V | 15,000 |
| l Salt Spray Test | Pass |
| l Humidity Cabinet Test | Pass |
| l Rust Prevention, ASTM D-665A | Pass |
| l Rust Prevention, ASTM D-665B | Pass |