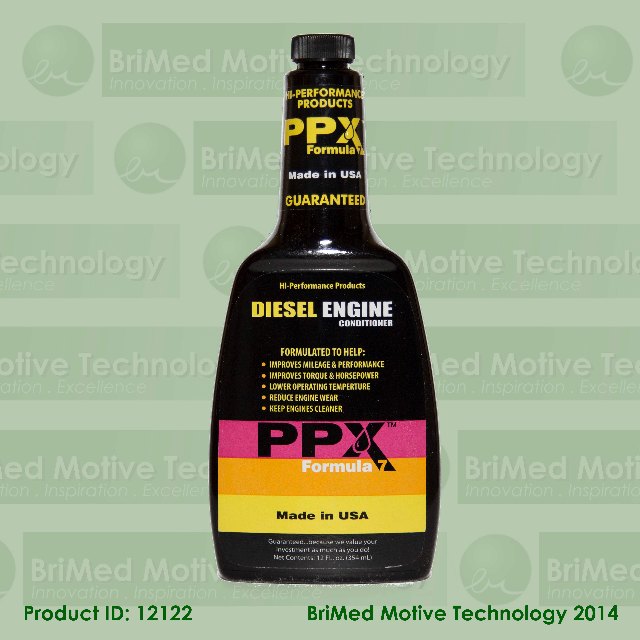 PPX 柴油引擎爽 - 柴油引擎配方 Engine Conditioner (Diesel Engines)
Model: 12122
所有國家及地區
貨品描述
PPX Formula 7柴油引擎爽 - 柴油引擎配方
瞬間傷害引擎?
每次啟動引擎就會磨損引擎? 當引擎沒有發動時, 引擎內的潤滑油會聚回引擎的底部(底盤), 所以引擎上的機件, 其實只剩下一層薄薄的油膜, 就是保護力最薄弱的時刻。當每次從新從靜止再發動引擎的一刻, 機油才會從引擎的底盤從新運行至引擎的各部分, 在這短短的數秒間, 因機油還未完全從底盤運送至引擎各部分的時候, 引擎在缺乏充份的機油的情況下, 就會產生「乾磨」現象, 並遣留下損耗後的金屬粉屑。
試想想, 如果一部業務車, 一天若有十次停車及啟動, 那麼, 一年就有超過三千次的磨損紀錄, 五年就是一萬五千次! 因此, 單依靠機油來保護引擎, 是不足以減少引擎在啟動用瞬間的損害, 而這正是業務車比較多故障及容易增加耗油的「主兇」。
PPX 引擎爽配方使用方法
1. 開動引擎至正常運作溫度 (因引擎金屬受熱後帶(+)正極,PPX 引擎爽配方帶(-)負極)
2. 關掉引擎
3. 把 PPX 引擎爽配方上下搖勻(約1 分鐘)
4. 打開引擎罩並扭開機油蓋
5. 加入 PPX 引擎爽配方
6. 扭緊回機油蓋及掩回引擎罩
7. 再開動引擎並正常開行車約15-30 分鐘

例子
2,000 CC 四汽缸引擎需用潤滑機油約4公升 (4公升=4,000毫升)
PPX引擎爽 濃縮潤滑機油配方400毫升 + 3600毫升 潤滑機油
(比例 PPX 引擎爽 濃縮潤滑機油10% + 潤滑機油 90% = 100%)
PPX Formula 7 Engine Conditioner (Diedel Engines)
PPX Formula 7 Diesel Engine Conditioner, is formulated for diesel engines, and is made from a unique formulation of high-tech semi-synthetic constituents chemically bonded together in a patented/patent pending new process to form a totally new Nano Monomolecular Technology Extreme Pressure (EP) ingredient available, to enhance oxidation resistance and provide maximum protection against friction, wear, rust, and corrosion.
PPX Formula 7 Diesel Engine Conditioner is a Nano Monomolecular (see back for definition) multi-purpose super lubricant designed for general maintenance use, from home use to heavy industrial fleet applications. It's has a super lubricating film that coats and penetrates metal surfaces to provide the longest lasting lubricating action available.
PPX Formula 7 Diesel Engine Conditioner can be used in any vehicle, marine, farm, earthmoving, off-road equipment or industrial diesel engine.
APPLICATIONS
All types of diesel vehicles:
1. Cars
2. Trucks
3. Recreational Vehicles
4. Commercial Fleets
5. Earth-Moving Equipment
6. Off-Road Equipment
7. Marine Equipment
8. Agricultural Equipment
FEATURES
1. Superior base stocks and superior additive technology.
2. Compatible with all seal materials, plastics, and paints.
3. Superior antiwear properties.
4. Excellent protection against rust and corrosion.
5. Outstanding oxidation resistance and thermal stability.
6. High flash point and high viscosity index.
7. Long life residue.
BENEFITS
1. Reduced maintenance costs.
a. Helps reduced component wear.
b. Helps decreased "down time" to replace oil and parts.
2. Super Lubricant.
3. Long lasting film lubricant.
4. Helps increase fuel mileage.
5. Helps increase engine life.
6. Helps reduce friction and wear between moving parts.
7. Helps protect against acid & corrosion.
8. Helps with quicker starts in cold weather.
9. Helps lower operating temperature.
10. Helps improve horsepower.
11. Helps quiet noisy engines.
12. Helps condition seals.
12.
SPECIFICATION
l Part No.:

12122, 12842, 86405, & 12255

l Flash Point, COC (°F)

>310

l Pour Point (°C)

>-10

l Four Ball E.P.

l LWI

90.79

l Weld (Kg)

500

l Rust Prevention, ASTM D-665B

Pass

l Oil Compatibility (JDM 22-4.9) Additive Separation (90% Synthetic Oil/10% Engine Conditioner)

None

l Oil Compatibility (JDM 22-4.9) Additive Separation (90% Petroleum Oil/10% Engine Conditioner)

None

l Color

Amber
DIRECTIONS
1. Start engine, let idle until engine reaches normal operating temperature.
2. Turn off the engine.
3. Shake well ( approx. 1 minute).
4. Open the engine oil cap.
5. Add PPX diesel engine conditioner.
6. Tightening back the engine oil cap.
7. Restart the engine and drive the vehicle for 15-30 minutes.
EXAMPLE
l 2,000 CC engine using about 4 liter engine oil (4 liter = 4,000 ml)
l 400ml of PPX The engine conditioner + 3,600ml of normal engine oil
l (Proportion 10% of PPX + 90% of normal engine oil)