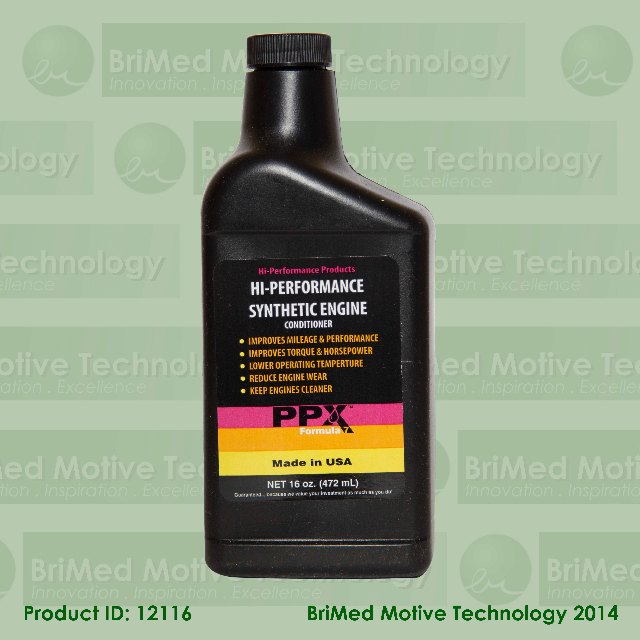 PPX 超級汽油引擎爽 - 汽油引擎配方 Hi-Performance Synthetic Engine Conditioner (Concentrated Engine Oil)
Model: 12116
所有國家及地區
貨品描述
Hi-Performance Synthetic Engine Conditioner (Concentrated Engine Oil)
PPX Formula 7 Hi-Performance Synthetic Engine Conditioner, is formulated for gasoline and propane engines, and is made from a unique formulation of the highest quality synthetic base stocks available fortified with Petron Plus Formula 7 state of the art additive technology to enhance oxidation resistance and provide maximum protection against wear, rust, and corrosion.
PPX Formula 7 Hi-Performance Synthetic Engine Conditioner is a multi-purpose super lubricant designed for general maintenance use, from home use to heavy industrial fleet applications. It's has a super lubricating film that coats and penetrates metal surfaces to provide the longest-lasting lubricating action available.
PPX Formula 7 Hi-performance Synthetic Engine Conditioner can be used in any vehicle, race vehicles, marine, farm, earth-moving, off-road equipment or industrial gasoline engine.
For use where Extra lubrication, extreme wear and rust prevention is required.
APPLICATIONS
All types of gasoline and propane powered vehicles:
1. Cars
2. Trucks
3. Recreational Vehicles
4. Commercial Fleets
5. Earth-Moving Equipment
6. Off-Road Equipment
7. Marine Equipment
8. Agricultural Equipment
9. Race Cars
FEATURES
1. Superior syn. base stocks and superior additive technology.
2. Compatible with all seal materials, plastics, and paints.
3. Superior antiwear properties.
4. Excellent protection against rust and corrosion.
5. Outstanding oxidation resistance and thermal stability.
6. High flash point and high viscosity index.
7. Long life residue.
BENEFITS
1. Reduced maintenance costs.
a. Helps reduced component wear.
b. Helps decreased "down time".
2. Super Lubricant.
3. Long lasting film lubricant.
4. Helps increase fuel mileage.
5. Helps increase engine life.
6. Helps reduce friction and wear between moving parts.
7. Helps protect against acid & corrosion.
8. Helps with quicker starts in cold weather.
9. Helps lower operating temperature.
10. Helps improve horsepower.
11. Helps quiet noisy engines.
12. Helps condition seals.
SPECIFICATIONS
| | |
| --- | --- |
| l Part No.: | 12116, 12515, 12516, & 12555 |
| l Flash Point, COC (°F) | >400 |
| l Pour Point (°C) | >-30 |
| l Four Ball E.P. LWI | 90.79 |
| l Weld (Kg) | 500 |
| l Rust Prevention, ASTM D-665B | Pass |
| l Oil Compatibility (JDM 22-4.9) Additive Separation (90% Synthetic Oil/10% Engine Conditioner) | None |
| l Oil Compatibility (JDM 22-4.9) Additive Separation (90% Petroleum Oil/10% Engine Conditioner) | None |
| l Color | Amber |
PPX 超級汽油引擎爽使用方法
1. 開動引擎至正常運作溫度
2. 把PPX超級汽油引擎爽上下搖勻( 約1分鐘 )
3. 關掉引擎
4. 打開車頭罩並扭開引擎蓋
5. 加入PPX超級汽油引擎爽
6. 扭緊引擎蓋及關閉車頭罩
7. 再開動引擎並行車約15 - 30分鐘
例子
L4 2,000cc 五公升偈油 / 一枝PPX超級汽油引擎爽
V6 3,000cc 六公升偈油 / 兩枝PPX超級汽油引擎爽
V8 4,000cc 八公升偈油 / 兩枝PPX超級汽油引擎爽
V12 6,000cc 十二公升偈油 / 三枝PPX超級汽油引擎爽