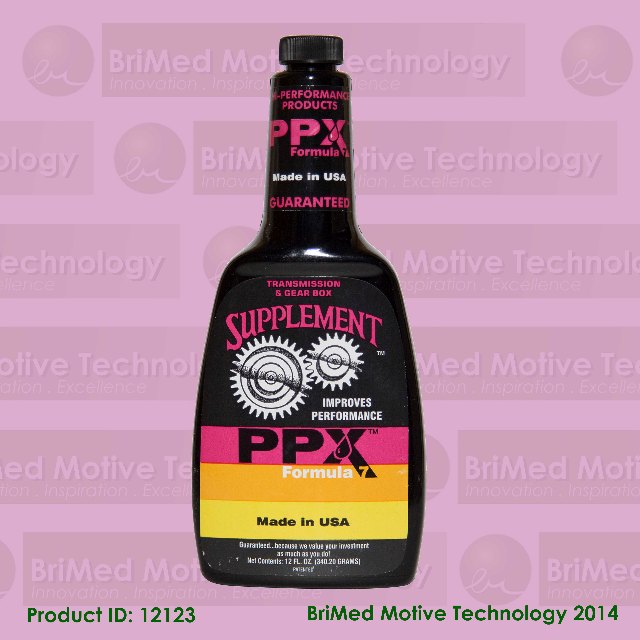 PPX手動波箱 / 工業用波箱潤滑油 Transmission Gear Box Supplement
Model: 12123
所有國家及地區
貨品描述
PPX Formula 7 Transmission & Gear Box Supplement
PPX Formula 7 Transmission & Gear Box Supplement (T&GB), is made from a unique formulation of high-tech semi-synthetic constituents chemically bonded together in a patented/patent pending new process to form a totally new Nano-Monomolecular Technology Extreme Pressure(EP) ingredient available, to enhance oxidation resistance and provide maximum protection against friction, wear, rust, and corrosion.
PPX Formula 7 T&GB is a multi-purpose super lubricant designed for general maintenance use, from home use to heavy industrial plant projects. It's has a super lubricating film that coats and penetrates metal surfaces to provide the longest-lasting lubricating action available.T&GB is the "new standard" in protection.
PPX Formula 7 T&GB can be used in any vehicle, marine, farm, earth-moving, offroad equipment or industrial gear box, equipment and machinery.
APPLICATIONS
1. All types of vehicle gear boxes:
Cars, Trucks, Recreational, Commercial Fleets, Earth-Moving, Off-Road.
2. Marine Equipment.
3. Railroad Equipment.
4. Industrial:
5. Mining, Manufacturing Gear Boxes.
6. Military Applications.
7. Agricultural Equipment.
8. Race Cars.
9. Gears and Bearings.
FEATURES
1. Superior petroleum base stocks and superior additive technology.
2. Compatible with all seal materials, plastics, and paints.
3. Superior antiwear properties.
4. Excellent protection against rust and corrosion.
5. Outstanding oxidation resistance and thermal stability.
6. High flash point and high viscosity index.
7. Long life residue.
BENEFITS
1. Helps reduced maintenance costs.
a. Helps reduced component wear.
b. Helps decreased "down time" to replace oil and parts.
2. Super Lubricant.
3. Long lasting film lubricant.
4. Helps conserve energy.
5. Helps increase gear life.
6. Helps increase fuel mileage.
7. Helps reduce friction and wear between moving parts.
8. Helps protect against acid & corrosion.
9. Helps lower operating temperature.
10. Helps quiet noisy gear boxes.
11. Helps condition seals.
SPECIFICATIONS
| | |
| --- | --- |
| l Part No.: | 12123, 52002, 52005, & 12355 |
| l Flash Point, COC (°F) | >420 |
| l Pour Point (°C) | -9 |
| l Four Ball E.P. LWI | 97.92 |
| l Weld (Kg) | 500 |
| l Rust Prevention, (JDQ22) | Pass |
| l Salt Spray Test | Pass |
| l Humidity Cabinet Test | Pass |
| l Rust Prevention, ASTM D-665B | Pass |
| l Color | Amber |